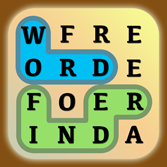 New Style Word Searching Game
Find and mark all the words hidden inside the grid.
2 Rules:
The letters in each word are orthogonally adjacent.
Each letter can be used for one word only.
Forget pen and paper. You will never run out of puzzles in this game!
Features:
10 Puzzle Categories!
More than 500 unique puzzles!
Replay puzzles to beat your own high score!
Compete with other players for highest number of stars!
Category List:
Animals
Plants
Occupations
Buildings
Sports
Clothing
Computers
Food
Business
Adjectives
Playing this game can challenge your brain and improve your vocabulary power!